No matter whether you registered for physical or for virtual participation, this guide is for you!
ICER is a hybrid conference. This means all participants, no matter whether they participate physically in Lugano or virtually online, should be able to get the ICER community experience. This year (due to the unavailability of Clowdr/Midspace we used in 2021), we switched to using Discord as our communication platform for all participants to use before and during ICER.
In Discord, you have the ability to communicate with voice calls, video calls, text messaging, media, and files in private chats or as part of communities called "servers." This ICER 2022 Discord server is accessible only to registered participants of ICER 2022. It is different from the existing ICER discord server.
We will use Discord to enable roundtable discussions, Q&A, hybrid participation in poster presentations, and to communicate with everyone. There's even a Discord channel where you can coordinate to go on a hike, for a swim, or hang out at a beach bar at the lake after the conference!
Please follow this guide to join and set up your profile, so other ICER participants can see and contact you! Register right now, before the conference, so you don't miss any networking opportunities!
If you do not have a Discord account, please create one here: https://discord.com/register
As a registrant for ICER you should have received (or will soon receive) an invite via email. A Discord invite looks like this: https://discord.gg/...
Note: This ICER 2022 Discord server is different from the old ICER 2020 Discord server. Even if you already joined the ICER 2020 Discord server, you still have to follow our new ICER 2022 invite to join the ICER 2022 Discord server and thus get access to ICER 2022!
To join the server, please click on the link and login with your Discord account (when prompted). Please note that the invite link is unique and it is only valid for one use. Each participant will receive their own private link.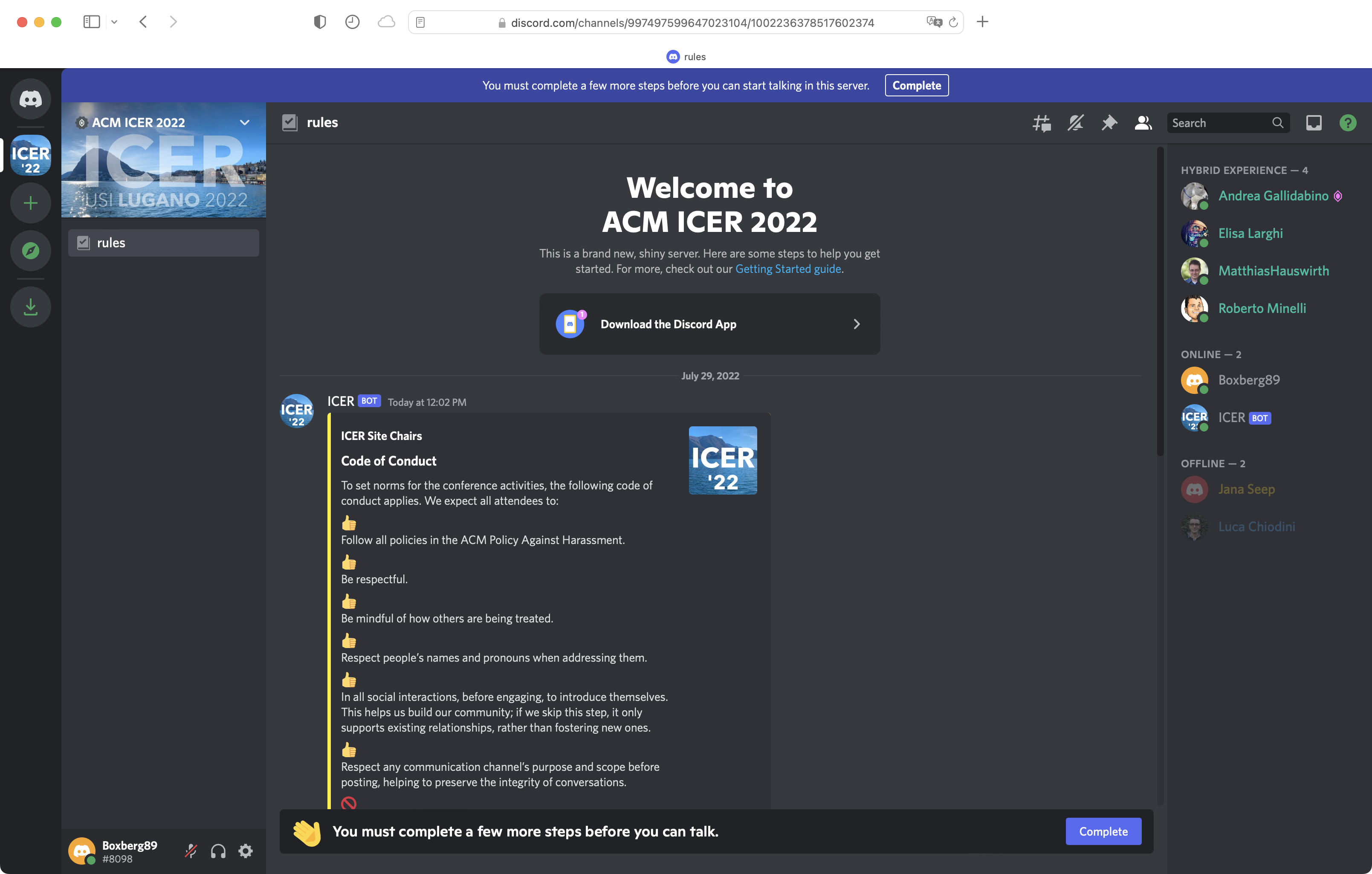 Upon entering, our server will look like this. As you can see, you will be required to complete a few steps before you can use the server.
To ensure that you indeed are you, you have to verify your email address. To do so, check your inbox and click on the verify email button.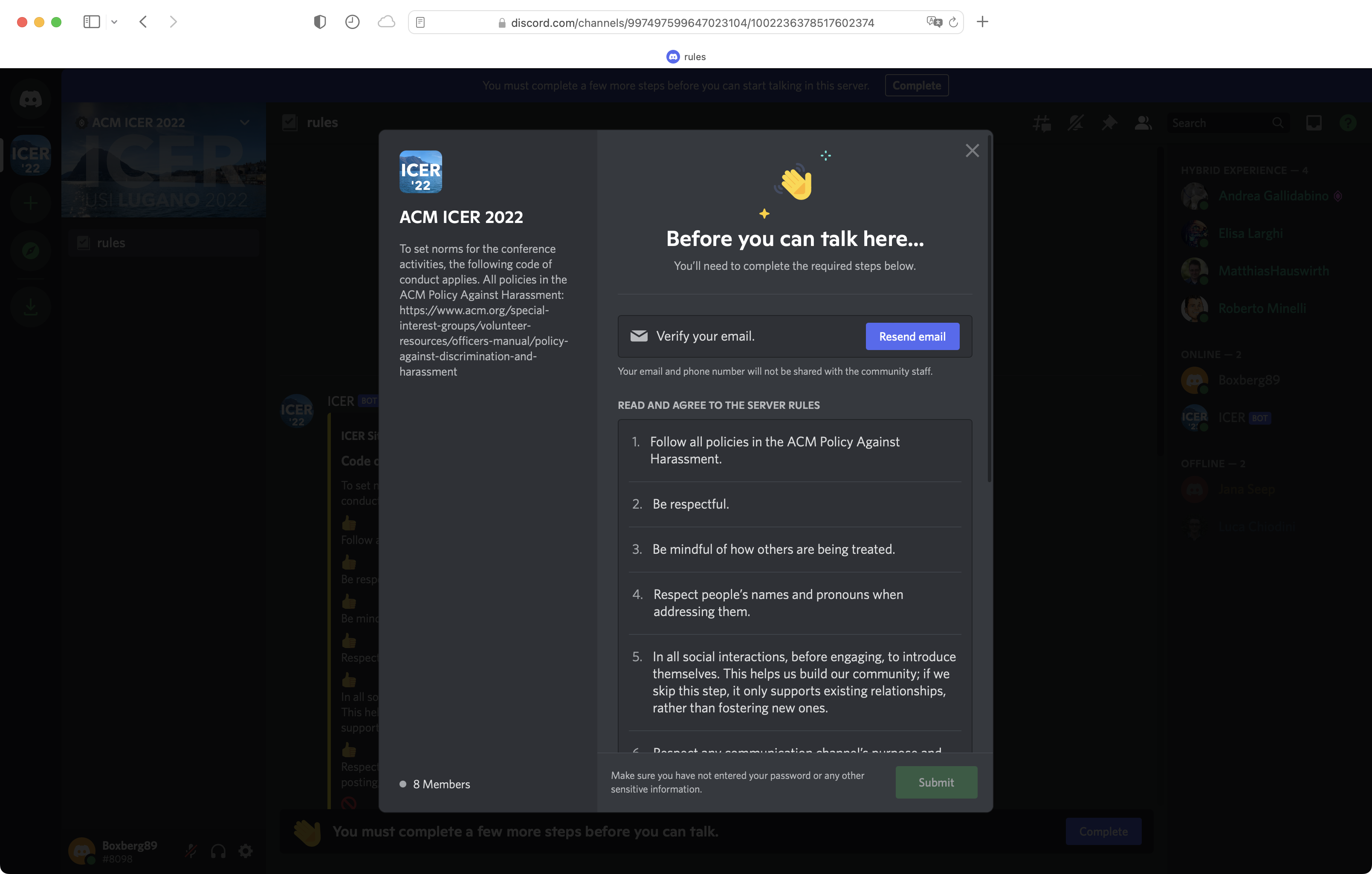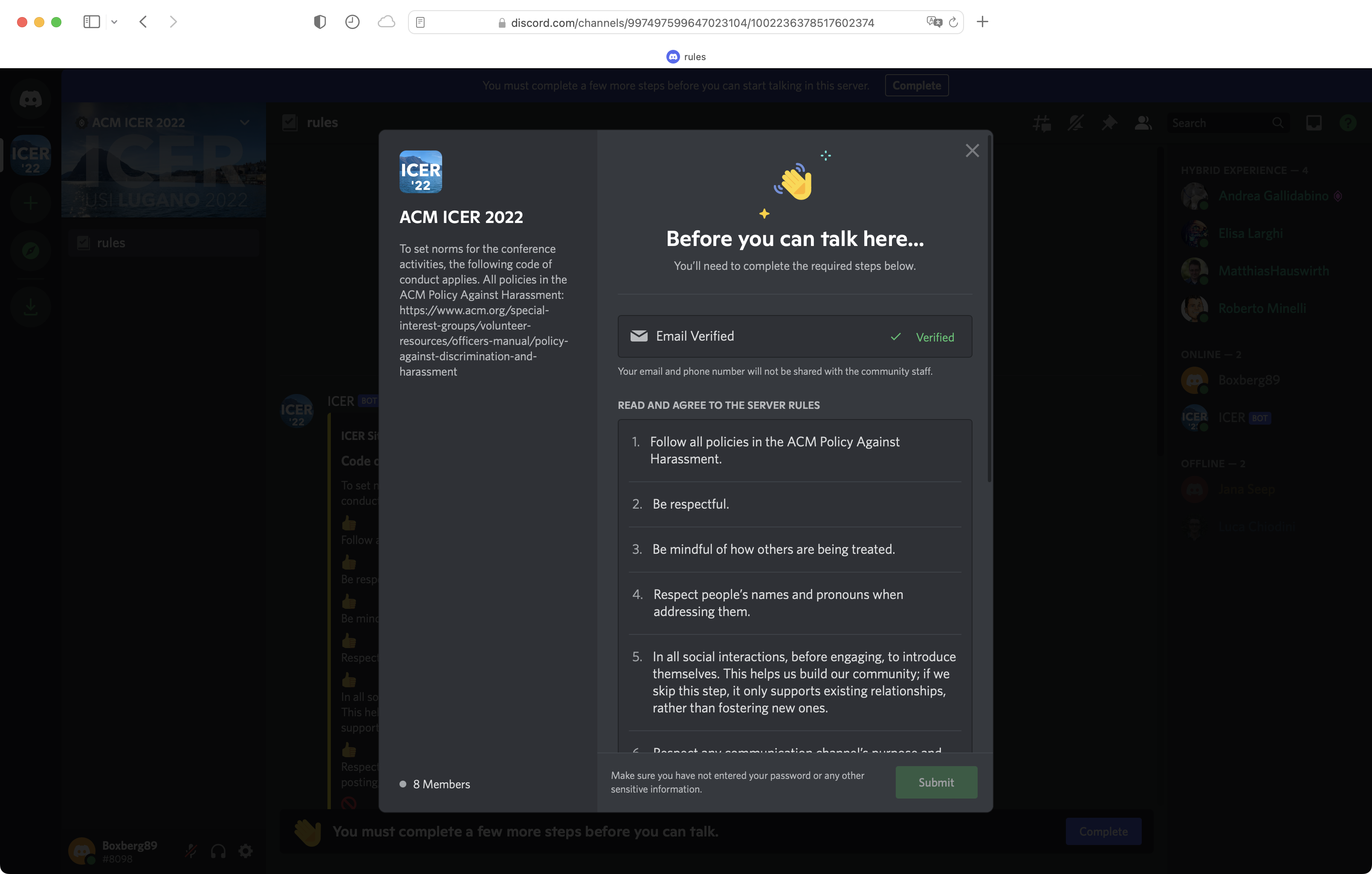 Please read, accept, and always follow the ICER 2022 Code of Conduct rules.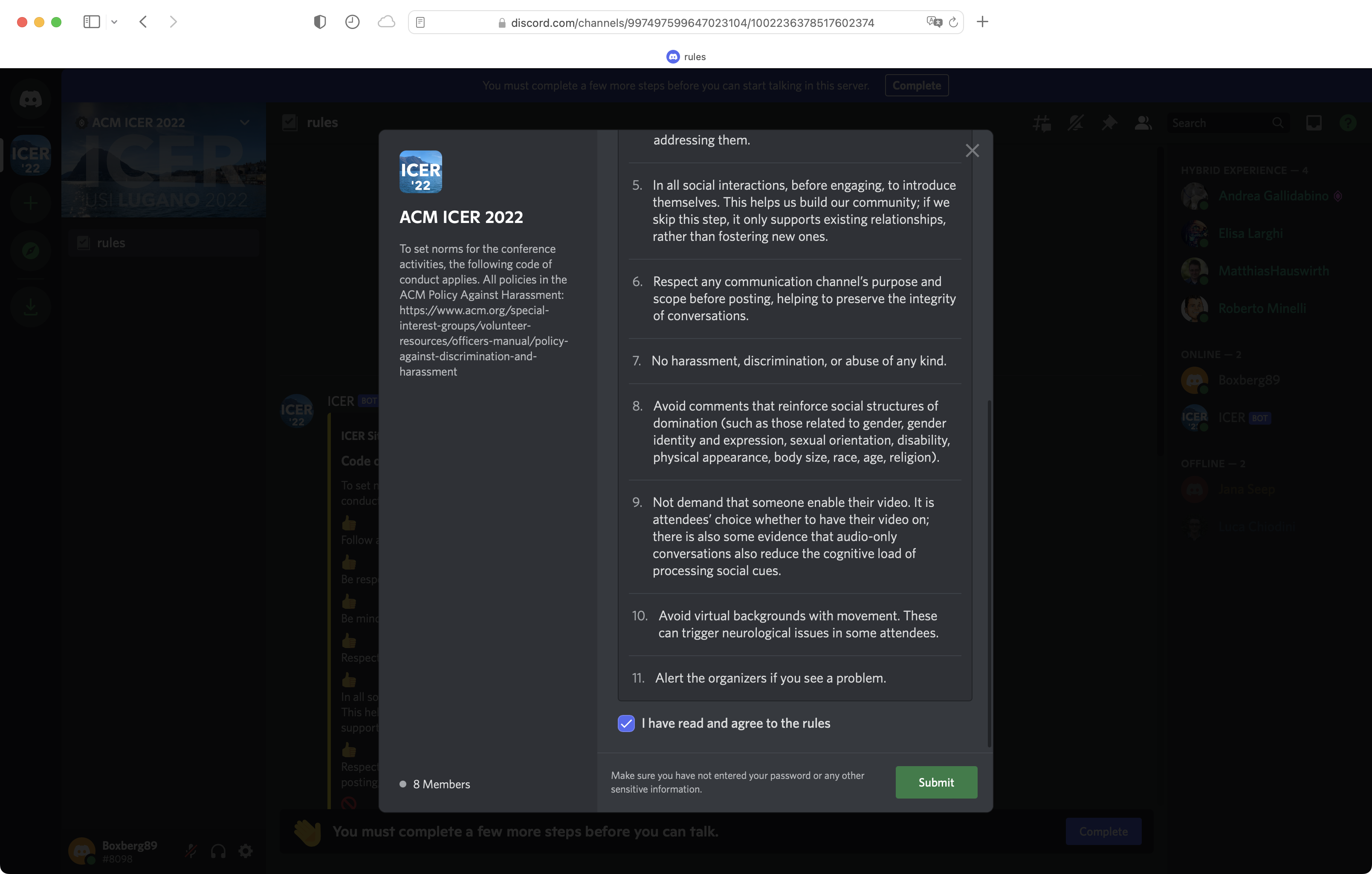 The last step is to update your nickname with your real name. To do so, click on your user in the left column, then press "Edit Profile", and finally on click on "Edit Server Profile."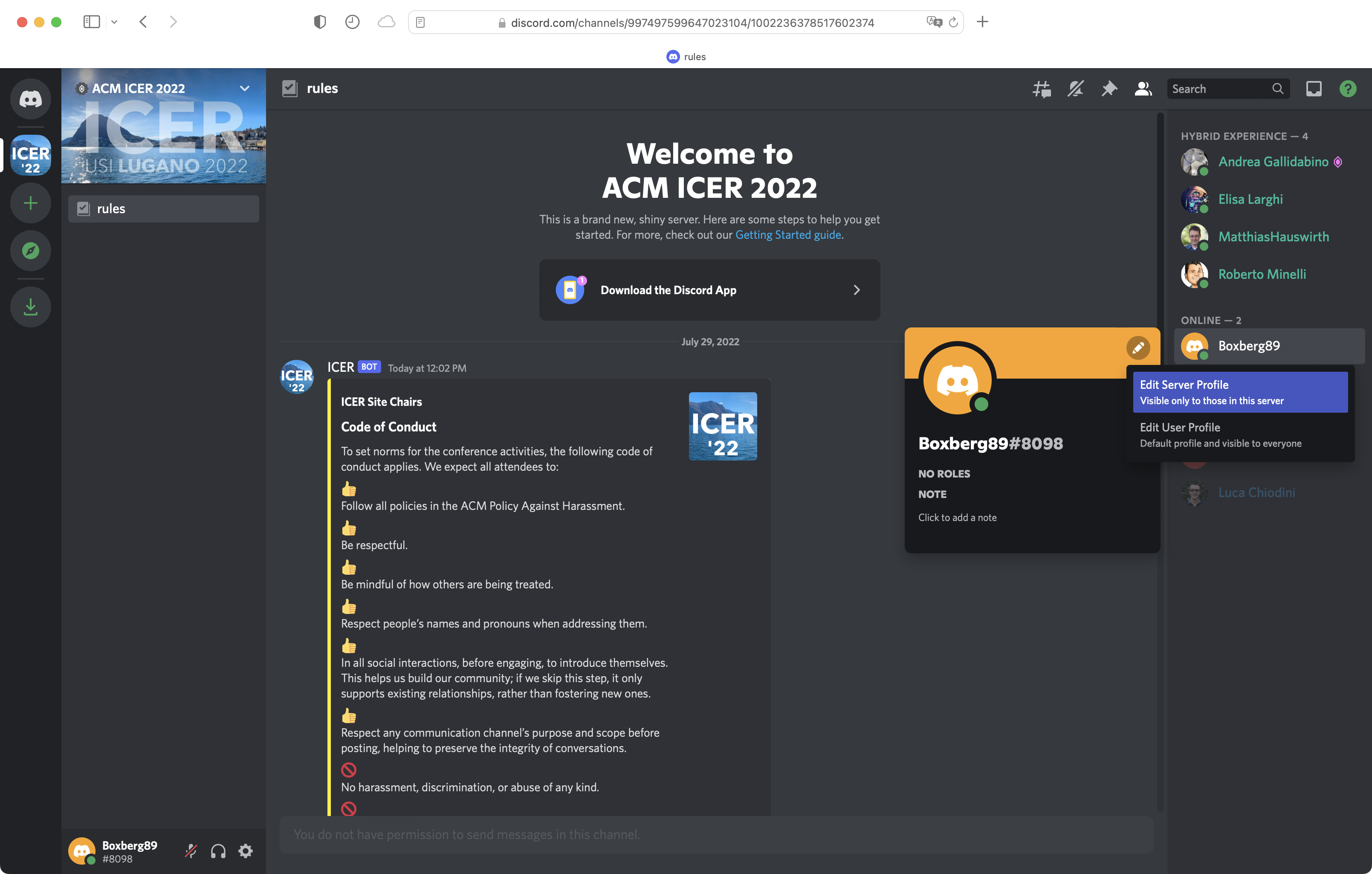 Write your full name in the nickname field and press on "Save Changes." In case you are using your Discord account for multiple servers (e.g., for gaming) do not worry — this information is server-specific, so it won't affect other servers.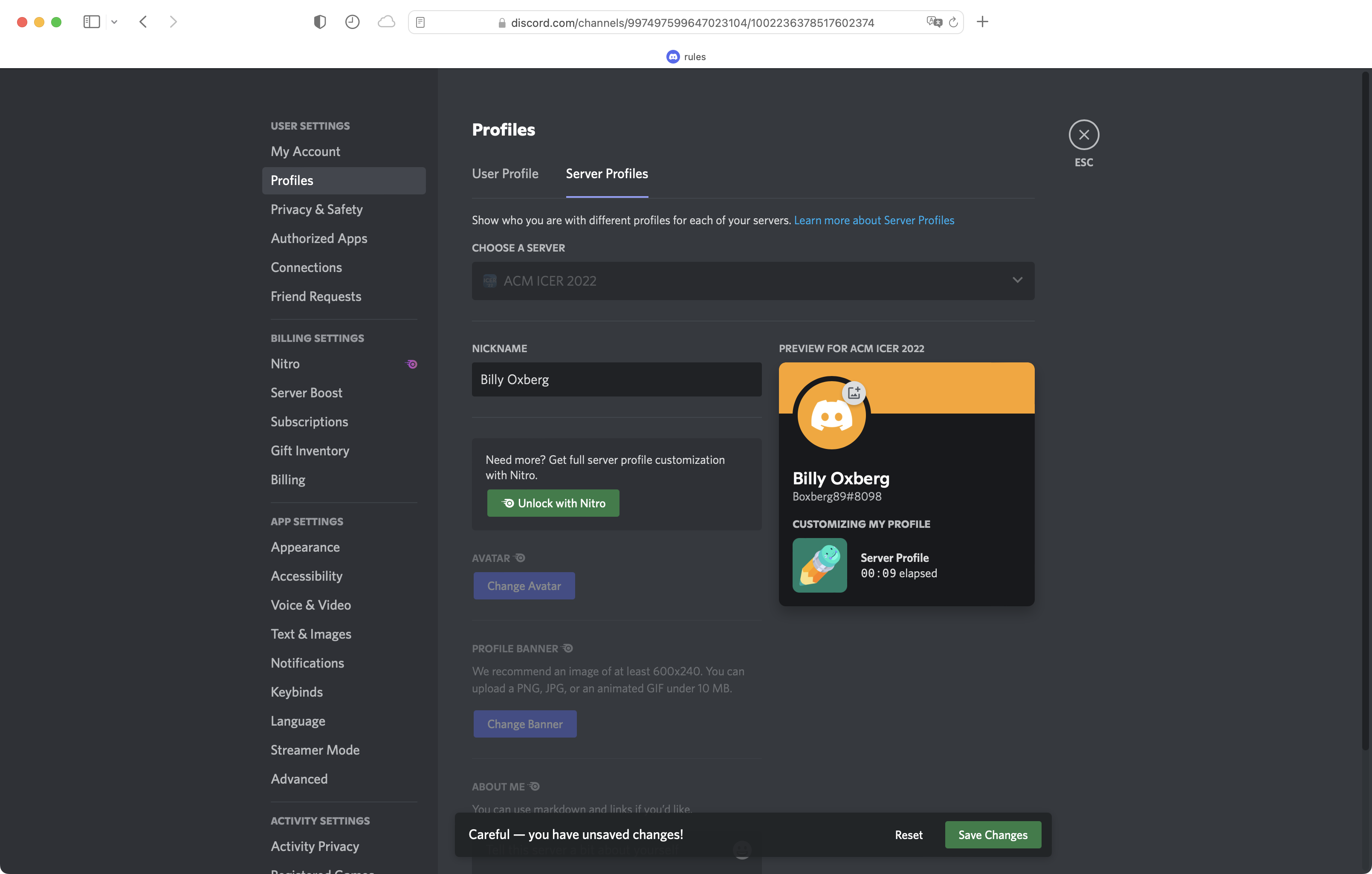 At this point, we kindly ask you to be patient: One of the Discord Moderators will assign you a role as soon as possible and enable you to see all the channels!
In the meantime, configure your personal profile (beyond just your name). You may want to:
Add a picture of yourself so other participants can recognize your face.
Under "About me", if you are not in person, include your timezone offset from Lugano (e.g., "TZ: -6 hours")
Under "About me", include a link to your homepage.
(You may have to set those aspects of the profile in your "user profile", which is visible on all Discord servers you joined, not just ICER 2022.)
Once you receive your role, you will be able to see all categories and channels. In Discord, channels are used to organize discussions: in each channel users discuss a specific topic. There are textual channels (#) and voice channels (speaker icon). Textual channels behave like chats while voice channels behave like phone (or video) calls. Channels are grouped into Categories to structure the server.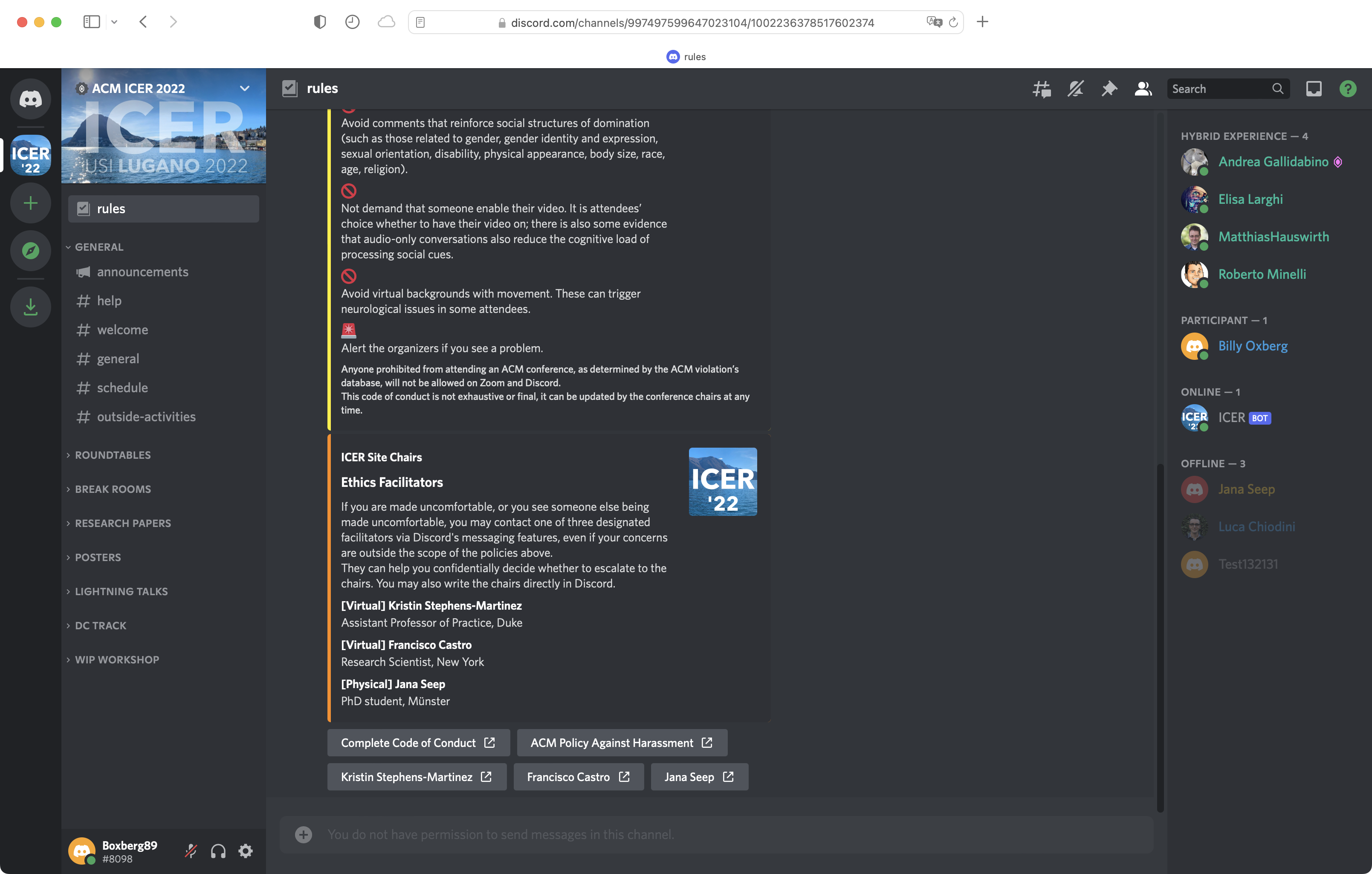 ICER 2022 has the following categories of channels:
GENERAL: Discuss the schedule, receive announcements from the chairs, and request help.
ROUNDTABLES: Voice channels representing virtual roundtables. We will use those roundtables to discuss the talks during the ICER paper sessions.
BREAK ROOMS: Voice channels for discussions during the breaks.
RESEARCH PAPERS: One text channel for each research paper. Inside each channel you can find more information about the paper (e.g., authors, schedule, DOI) and discuss the paper. See the image below for an example.
POSTERS: One voice channel for each poster for virtual poster presentations.
LIGHTNING TALKS: One text channel for each lightning talk. Use this to leave comments for authors to respond to.
DC TRACK: One voice channel for each submission to the Doctoral Consortium.
WIP WORKSHOP: One text channel for each work in progress workshop contribution to discuss with the authors.
Below is an example of the channel of an ICER research paper. You can see the paper title, the authors, and two buttons: a link to the paper's page in the schedule on this web site, and a link to the paper in the ACM DL.
If you are an author of that paper, please post a welcome message to participants right here. If you are a participant and are interested in this paper, or have specific feedback, do leave a comment right here as well. We recommend that authors check their paper's channel from time to time throughout the conference, to be able to follow up on questions and hopefully walk away with new insights and ideas.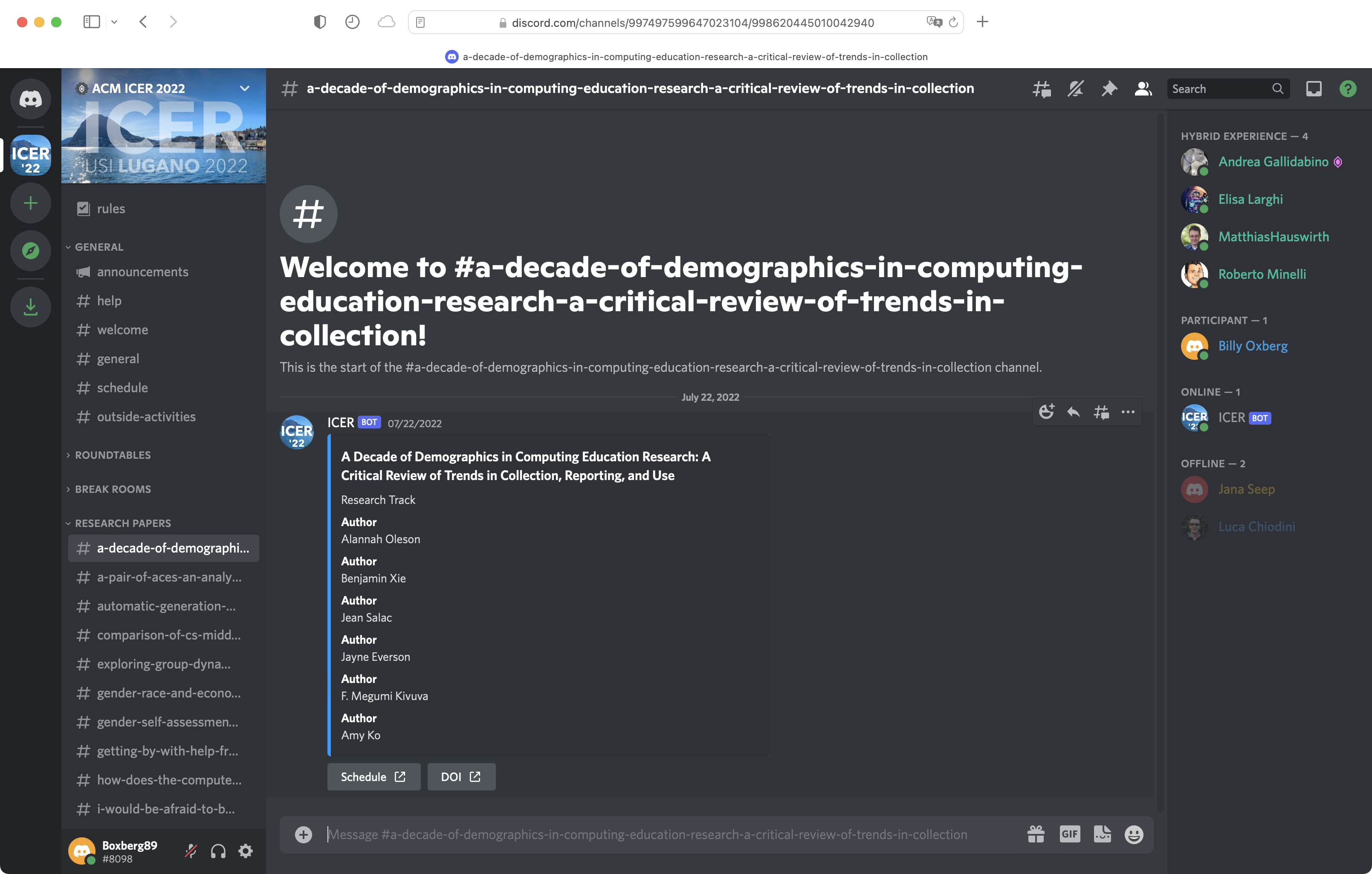 Did you know that you can search on Discord? And that searching will bring up papers, posters, lightning talks and their authors as well?
You may wonder whether a researcher you know is going to present something
You might want to see papers about a certain topic
Discord offers a powerful feature to search across the whole server (including inside channels!). By clicking on the Search text field (i.e., top right), Discord shows a number of search options. In our example, we searched for "Felienne" and obtained the two results: the voice channel for her poster and the text channel for her research paper.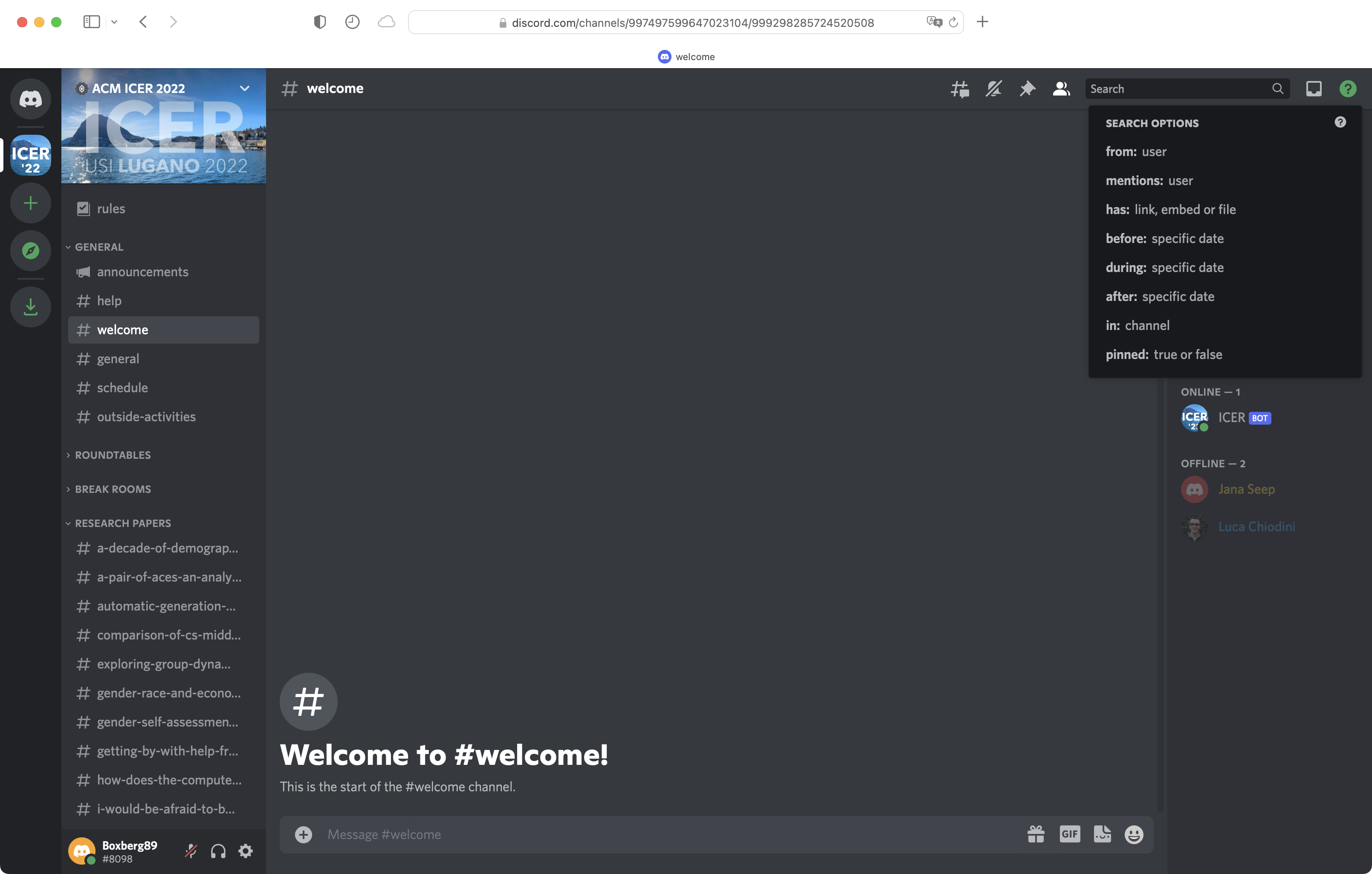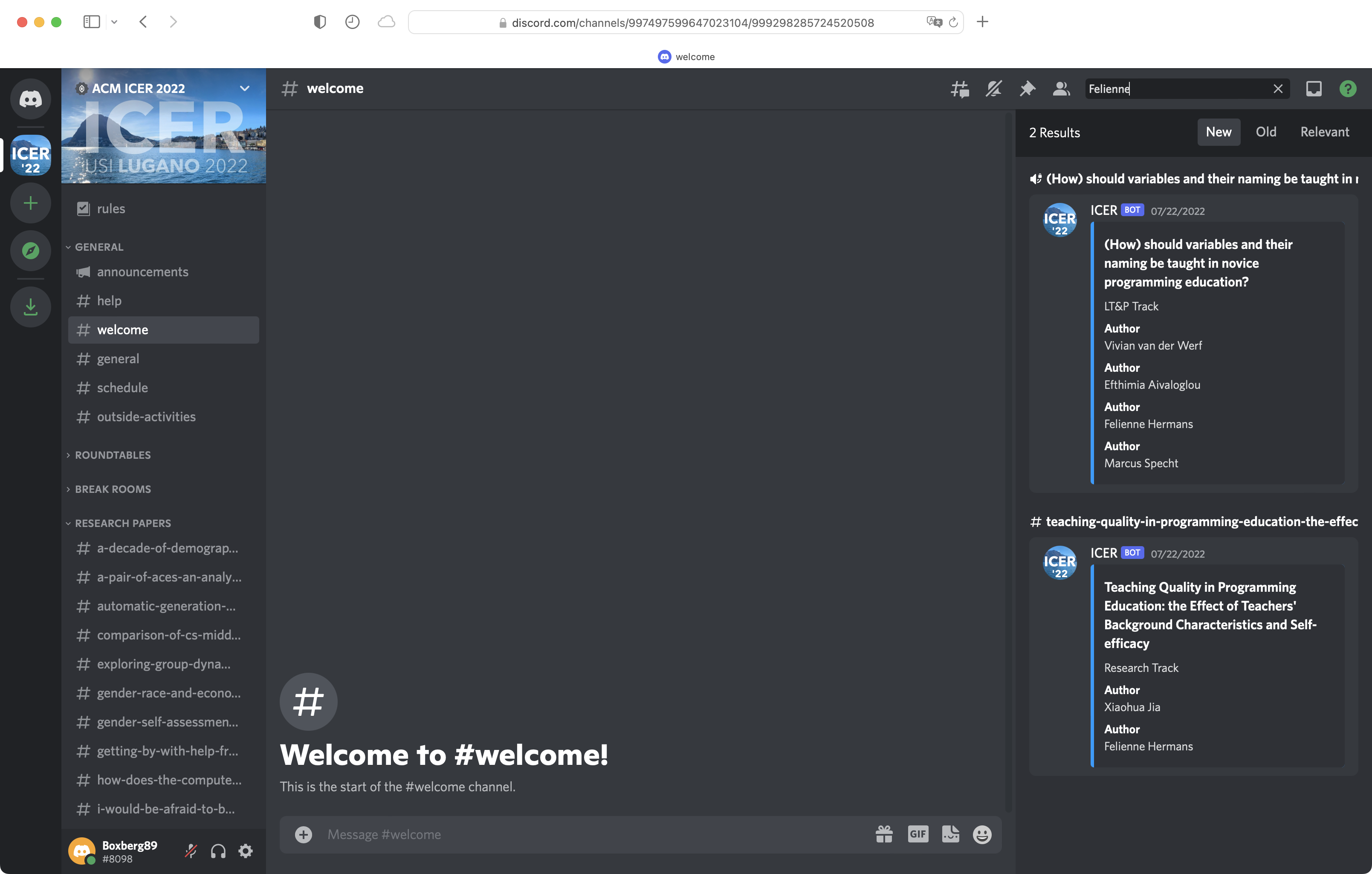 For more info, read the official guide here.
Recently, Discord introduced a dedicated text chat within each voice channel. To access it, hover on a voice channel from the list and click on the chat balloon, as depicted below.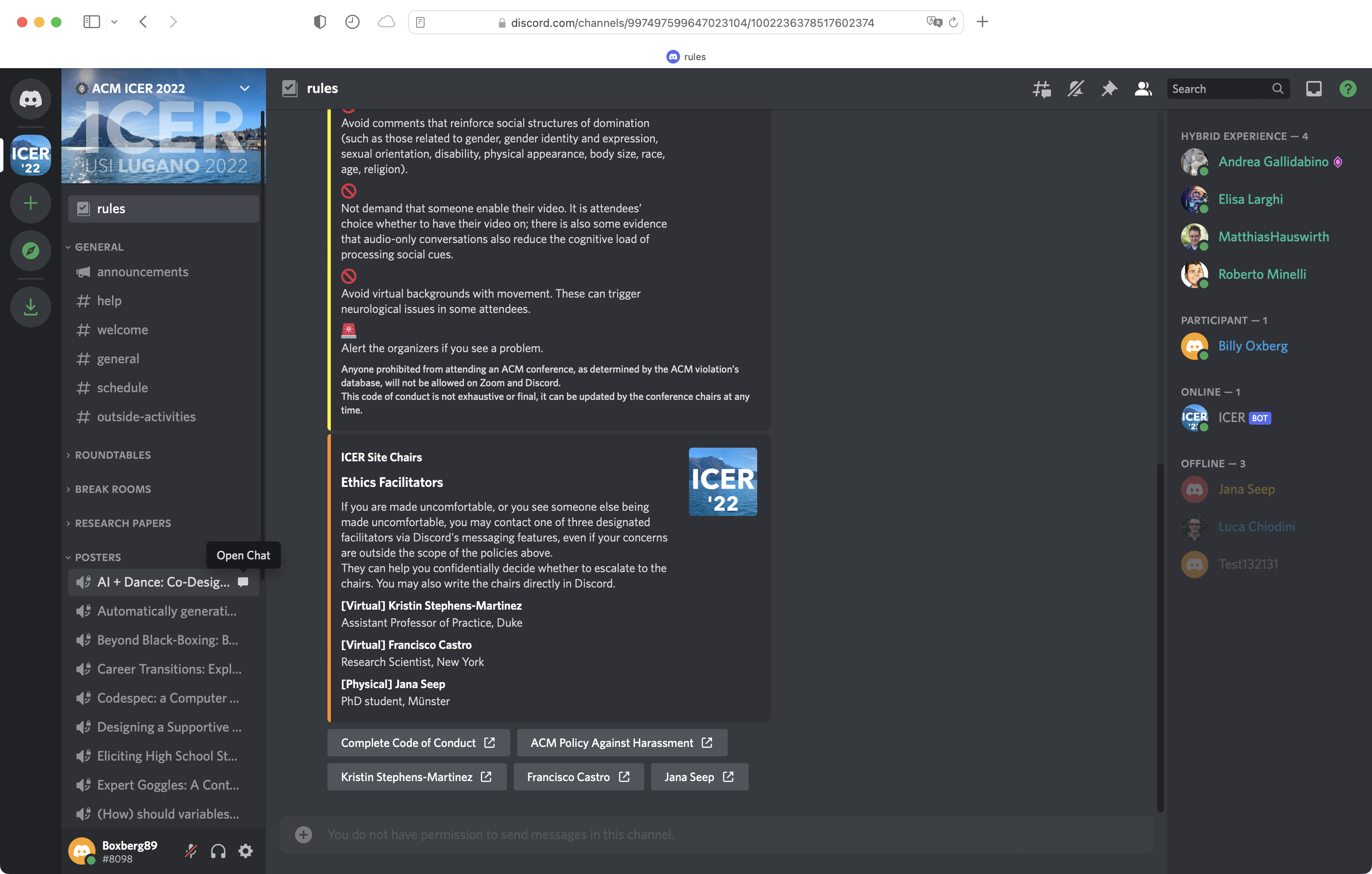 Here is how a text chat within a voice channel looks like. If you want more information, please read the official Discord guide here.